KVM on Gentoo Installation
Notes and information on installing KVM (Kernel-based Virtual Machine) and QEMU (Quick EMUlator) on a new Gentoo host.
Adding KVM Support to Kernel
Does Machine Support Virtualization
Check if machine support virtualization by running the command below which checks whether Intel Vt-x or AMD AMD-V virtualization technologies for supporting concurrent operating system use of CPUs are enabled/available. A result of > 0 would suggest the machine is capable of virtualization.
Kernel Settings
The machine I am installing this on is Intel based, so while there is no harm building the AMD processor support as a module, I opted not to waste time building something that won't be used on this machine. There is also no need for Virtual Box Guest integration so I disabled that as well when I noticed it was on. I suspect there are other settings hidden about I might need to turn on, but I think the below should be sufficient to get things going. After rebuilding kernel, add to boot loader and reboot machine to load kernel before moving on to the next section.
Test Kernel has KVM Support
I've rebooted the machine to load the new kernel and I make sure KVM support has been added by looking for the existence of /dev/kvm. If it wasn't there, I would need to go back and check my work and troubleshoot until I got it to appear.
Install QEMU
Create Package Use Flags File and Install QEMU
QEMU has a lot of USE flags to control what features are built. As I am not entirely sure which features I will eventually use, I created a /etc/portage/package.use/app-emulation/qemu with some initial settings as below. As my needs change over time, I will be able to edit the file and rebuild QEMU to add or remove features as required.
Add User Account to KVM Group
Reset Permissions on /dev/kvm
On new installs it is recommended to ask udev to rest the permissions on /dev/kvm, and so that is what the command below does.
QEMU Networking Host & Guest VMs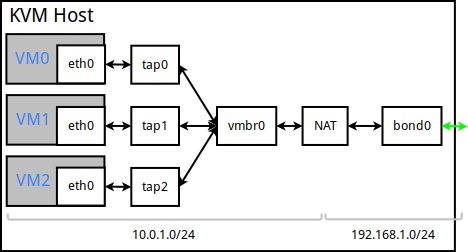 Bridging Tools
As there is a bridge in my desired setup, best to start by installing bridge-utils to manage via brctl.
Install Libvirt
Add User to libvirt
Add user account to libvirt group, then log oout and back in to pick up changes. This and the next step below should make virt-admin usable for users other than root.
Uncomment the following lines in /etc/libvirt/libvirtd.conf and save.
Start libvirt Service
I think that is enough for now. The above was sufficient to get emulation KVM/QEMU set up on my new machine. If you have made it this far then good for you.
References